Norbertine Fathers
Norbertine Fathers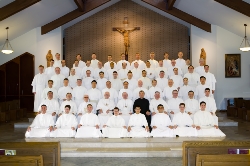 Norbertine Fathers at Mary Star
It can be said with great confidence that the Norbertine fathers are very committed to Mary Star High School. The Norbertine fathers have staffed and have helped in the administration of the school over the past 18 years. The school, parish, and community families have been enthusiastically supportive of the Norbertines presence since 1991.
There is no question that all feel enormously blessed to have these dedicated, prayerful men working in our midst – focusing on the spiritual, intellectual, and physical well-being of our youth. Their exceptional talents and energies both inspire and strengthen the direction, quality, and results at Mary Star of the Sea High School.
In a time when nationally and even worldwide the trend is for decreasing religious and priests in our Catholic schools, Mary Star can offer a prayer of gratitude for the precious gift of the Norbertines to our parish and school.
Some Facts about the Norbertine Order
The Order's Name and Abbreviation: While the Order is best known in the USA as the "Norbertine Order" it is also known as the "Order of Premontre" or "Canons Regular of Premontre" or "Premonstratensian Order". "O.Praem." is the abbreviation of the Latin "Ordo Praemonstratensis" and is often found after the name of a member of the Order.
Norbertine Saints: In addition to St. Norbert, there are now 15 Norbertine Saints and Blessed recognized by the Church with their own liturgical feastdays. Beyond these there are hundreds of members of the Order who have distinguished themselves for great holiness of life in the annals of the Order.
The Religious Habit of the Order: The distinctive white habit of the Order is usually attributed to a revelation made by the Blessed Virgin to St. Norbert. St. Norbert himself says he chose it because it was the fitting color for those who are called to be angels proclaiming the resurrection of Christ to the world. The habit consists of four parts: the tunic, scapular, cincture (sash), and shoulder cape. The small "hood" on the shoulder cape is a symbolic leftover from the medieval era when the full monastic hood was worn.
Order Statistics for Today: There are about 1,500 Norbertines in the world today. While most of the Order's 35 abbeys of priests are found in Europe, the Order is now spread across six continents. There are about 10 convents of Norbertine Sisters in Europe with a new foundation of cloistered Norbertine Nuns established near Silverado in 1998. In the United States there are six distinct communities of Norbertines with their headquarters located in DePere, Wisconsin; Paoli, Pennsylvania; Claymont, Delaware; Orange (Silverado), California; Albuquerque, New Mexico; and Jackson, Mississippi.